Barry Everitt – Headmaster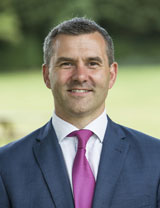 Barry joined Cranmore in 2010 following a successful career in professional rugby. He played at fly-half for Munster, Leinster, London Irish and Northampton Saints and was called up to the senior Ireland squad in 2001. He still holds the record for the most individual points scored in a Premiership Season, having scored 343 points for London Irish in the 2001/02 season.
Born in Ireland, Barry studied Business before moving to the UK. While living in London he studied Science at Brunel University.
Since joining Cranmore Barry has continued his education, successfully completing a Master's Degree in Education with a focus on educational leadership.
Barry's ethos for an enriched education is founded on participation and academic excellence. He has cultivated a 'sport for all' approach at Cranmore and has been responsible for developing a broad academic curriculum.
Barry and his family live locally. His three daughters are pupils at St Teresa's.
James Pulford – Deputy Head (Academic) of the Senior School
James joined Cranmore in September 2020. He is a bright, enthusiastic educator with excellent academic credentials.  He was most recently Director of Studies at The Royal School, Haslemere, where he successfully managed changes in structure from single sex to a 'diamond' model, with boys and girls taught separately, and to co-education.  
Previously, he ran a thriving Mathematics Department and also worked at the highly successful state boarding school, Gordon's in West End. He read Mathematics with Philosophy at Bristol University, and followed this with a Post Graduate Certificate in Education.
A keen sportsman, Mr Pulford enjoys participating in a variety of sports including football, cricket, cycling, running and surfing. He has two young sons and his wife also teaches locally.
Sarah Gallop – Head of Lower Prep School
Sarah joined Cranmore in September 2016. She read Ancient History at The University of Birmingham, including conducting a study tour in her second year to Egypt.Prior to commencing her studies at Birmingham, Sarah had previously worked at an Independent School, as a Teaching Assistant in Reception, for a year. It was here her passion for education was founded.On completion of her Ancient History degree, she successfully achieved her PGCE in Primary Education, at Kingston University.
Sarah is passionate about the Early Years and embedding a creative curriculum to enable each pupil to find their individual talents and love of learning.
In her own time, Sarah enjoys running and completed the London Marathon for the first time in 2019. Sarah is also an ardent traveller and enjoys cultural visits and immersing herself in the history of a new place.
Jessica Schembri – Assistant Head of the Senior Dept
Ms Jessica Schembri – Assistant Head of the Senior Dept
Jessica joined Cranmore in 2012. She read French and Management at Royal Holloway, University of London and spent two years working in France and Italy teaching English as a Foreign Language.
She continued her passion for education by successfully achieving her PGCE in Secondary Education (French and Italian) at St Mary's University. Following the completion of her NQT year in an inner city secondary school in North West London, Jessica was appointed Assistant Head of Year and later became Joint Head of a large Modern Foreign Language Department.
Jessica has always had a love of working with children and from an early age knew that she would work in education. She is passionate about pupil wellbeing and personal development.
Away from teaching, Jessica is a fervent traveller and has an avid interest in the Arts and Art History.
Mike Farmer – Executive Director of the Trust
Mike joined St Teresa's in September 2012. He began his career teaching Economics and Business at the Godolphin School in Salisbury, taking up the position of Assistant Head at Headington School in Oxford in 1997. In 2003 he was appointed Principal of Kilgraston School in Perthshire. He transformed the school to achieve the highest growth rate within the sector and also topped the Scottish academic league tables.
In 2011, Kilgraston gained national recognition by being named the UK Independent School of the Year.
Under Mike's headship, St Teresa's has experienced dramatic growth of 60%, enabling capital investment of over £5m. With a roll of 650 pupils, St.Teresa's is currently the largest Catholic independent girls-only school in the UK.
In addition to Headship, Mike was a member of the governing council for the Girls' Schools Association for many years, and also Chair of the boarding committee. In 2016 he had the honour of chairing the Boarding Schools' Association. He is a Governor of two independent schools and also chairs the advisory board for the Chinese owned company, Achieve Education.
Mike is supported by his wife Mary-Ann who has worked in boarding for many years.
They have two grown up children.