Competition Reports
NSEA Munstead 20.04.19
We had two intrepid competitors in the NSEA Eventing (dressage, cross country and show jumping) at Munstead on Easter Saturday. Both had two super "double clears" (SJ & XC) and they finished in the placings. Mia on Cosmic was 12th and Issy on Pirate was a super 8th. Well done!

NSEA Oldencraig 03.03.19
A huge congratulation to Illy and Cassie who took part in the NSEA dressage competition at Oldencraig on Sunday. The girls rode 2 dressage tests each and achieved very respectable scores in both tests and against strong competition—well done!
National Schools Equestrian Association (NSEA)
Issy Hobbs, on Pirate, and Amelie Gachoud, on Pepper, represented St Teresa's in the 80cms show jumping at the National Schools County Novice Qualifier at Sands Farm on 3 Feb. Freezing cold but a lot of fun!
NSEA Felbridge 19.06.16
Congratulations to the Felbridge St Teresa's team today! Wow. Awesome clear rounds in 40 cm and 50 cm Grassroots classes from Annabel and Teddy. Annabel rode with great determination as he was only just moving in the warm-up -"economical" about covers it – but she pulled out an extra gear, in the 50 cm, and he responded and cantered the whole 10 fence course with ears pricked. In the seniors, Chloe Duncan with Bella so nearly nailed their first 90/95 Qualifier, just nudging the second-last planks, whilst executing a superb turn, for 4 faults but a great time. Then in the 80 she nailed that completely by going clear in the fastest time of the day for 1st place and a qualification for the National Championships – out of a huge class of 130!!! Well done to both riders.
NSEA Felbridge 28.05.16
Although the forecast was for sunshine, the riders representing St Teresa's arrived early at Felbridge to an overcast sky! The 70cm class in the main arena was very twisty and was catching a lot of riders out – especially the double going away from the warm-up arena. Chloe Duncan was first in for St Teresa's and rode a smooth, confident first phase, but took a stumble after fence 8 in the second phase. The longer route to fence 9 cost time, but speedy Bella still took 4th place in this hotly contested class. Isabella Muir with Saturn were on their first visit to Felbridge, which is particularly spooky in the main arena, so Saturn was on his toes! They were going really well until the balloons on either side of fence 7 distracted Saturn causing an unlucky stop. Isabella then rode intelligently to rebuild his confidence over the last few fences and save him for the next class.
The 80cm course was more flowing but the planks at 5 and the double at 10 were causing lots of problems early on. Again Chloe went first and was going brilliantly until a slight misunderstanding between fences 8 and 9 meant they crossed their tracks and were penalised with 4 faults. Isabella went in with more purpose and was going much better until they also fell foul of the bogey fence at number 5. I am not sure what is so terrifying about a few plastic bowls wired to the big orange cones on either side of the fence, but so many horses took objection to them! There is always another day (and perhaps some home-built spooky fences to practice with!).
In the grassroots arena, Maddie Thurkle was representing St Teresa's in her usual dynamic style! They went brilliantly round the 60cm course in a good time, but a pole down meant that they finished out of the placings. However, a few tight turns and leaving all the poles standing in the 70cm Maddie managed to hold onto 6th place in another hotly contested class.
Grassroots report by Maddie Thurkle: "On 28th May I took Mystic Noir to Felbridge with the aim to qualify for the grass roots championships to be held in the Autumn. The sun shone and although I had an unlucky pole in the 60cm I was placed 6th out of approx 85 people in the 70cm so we are going to the champion ships. I was so proud of my pony. He looked and felt incredible."
NSEA GBEC 22.05.16
Our largest ever contingent of girls went out competing this Sunday, representing St. Teresa's in a competition against other schools. All our riders had a good time and many came home with lots of ribbons, others with some fresh ideas on what they might need to work on to improve next time out.
Seniors report by Emma Mulhall, Equestrian Prefect: "On Sunda 22nd May, Emma Mulhall, Chloe Duncan and Isabella Muir with their horses Kia, Bella and Saturn competed in the 80cm show jumping class at Great Bookham Equestrian Centre. Despite the slippery ground conditions the horses jumped well and the team finished in 3rd place. Congratulations to Chloe and her pony Bella for winning the 70cm show jumping class! Well done to everyone who took part, it was a very successful day for St T's and was enjoyed by all!" (Picture right Seniors Showjumping Team (left to right – Emma Mulhall on Kia, Isabella Muir on Saturn and Chloe Duncan on Bella)
On the other side of the showground, the Grassroots riders dominated their arena in style. We had a large contingent of riders who were at their very first competition and coped amazingly. Everyone tried their very best and most of the ponies were on their very best behaviour (but there's always one who is a bit cheeky! Not mentioning any names….). The dressage riders doing the walk and trot test took 1st-5th place and also 7th, 9th and 10th!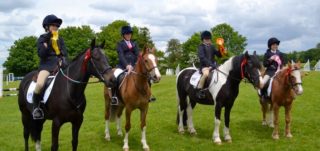 We were equally as successful in the showjumping arena with riders placed 3rd, 5th and 6th in the 40cm and the team being placed 1st and qualifying for the Regional Championships. Picture left 40cm qualifying team. (left to right – Mia Gibbs on Flora, Lulu Banks on Tango, Annabel Wrigley on Teddy and Mia Sherazee on Curly)
The course was particularly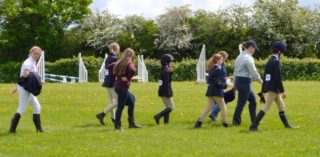 demanding with some big jumps and lots of twists and turns for those who were doing their first showjumping event, but all the riders rose to the occasion. Three of this team were entered into a combined training event where their dressage and showjumping scores were added together to give an overall score – they were placed 1st, 2nd and 3rd in this class too! As you can imagine, by the time we got to the 50cm class towards the end of the day both the ponies and riders were beginning to tire so we will have another go at that height another day. (Picture above – team course walk.)
Grassroots report by Mia Sherazee: "On Sunday a few girls from St. Teresa's school went to an inter school dressage and show jumping competition – and for most of them it was the first one. Everyone did really well in the 40cm jumping. Lulu did especially well on Tango considering that she had only had two show jumping lessons previously. St. Teresa's Team (Mia Gibbs, Mia Sherazee, Annabel Wrigley, Lulu Banks) came First against some stiff competition. St Teresa's also did very well in the grass roots dressage and managed to qualify for the championships in November 2016."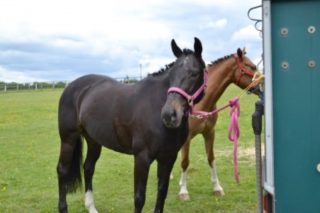 This was the first event that our very own STE ponies went to and they were absolute stars, showing their very nervous riders the ropes. Our thanks go to their owners for letting us loan them and also for allowing the girls to take them out to shows. My personal thanks also go to the excellent yard team (particularly Lianne) who worked extremely hard to bath, plait and prepare the ponies for the show. (Picture above: STE ponies Tango and Flora)
Towards the end of the day there were some very stylish senior dressage performances from Soraya Rogers and Emma Mulhall. In the Restricted Prelim Soraya rode a very bright Ellie into 7th and Emma rode a smooth test to take Kia into 12th. Soraya also won 6th place in the Novice class with Ellie and had a go at her first Elementary on Maya, strolling into 4th place. What great performances from these two aspiring stars.
A great big thank you goes out to all the riders who put in a lot of hard work preparing for the show, their wonderfully dedicated parents who came out in force to cheer, carry, wipe tears or take photos and generally support the whole team. We were thrilled to be supported by Mr and Mrs Farmer who came to watch and cheer on and some of the other school parents and girls who watched, learned and hopefully were inspired to have a go! I would also like to thank Alison Craig and Zoe Thurkle, who pulled out all the stops to get everyone organised and in the right place at the right time, helpfully assisted by Sylvia Buck (our wonderful new office administrator) who gave up her time to come and soothe nerves and keep everyone to time and Eleanor Craig-Fisher who must still be calling the walk and trot test in her sleep!
---
Full results as follows:
Competition Reports
Grassroots Walk & Trot Dressage

1st
Mia Gibbs on Flora
2nd
Mia Sherazee on Curly
3rd
Chloe Farrell-Hudson on Joe
4th
Annabel Wrigley on Teddy
5th
Amy Beney on Tinker
7th
Lulu Banks on Tango
9th
Pixie McCann on Tango
10th
Amber Hobbs on Prince
Grassroots 40cm Individual Showjumping

3rd
Mia Gibbs on Flora
5th
Annabel Wrigley on Teddy
6th
Mia Sherazee on Curly
Prelim Individual Dressage

7th
Soraya Rogers on Ellie
12th
Emma Mulhall on Kia
Novice Individual Dressage

6th
Soraya Rogers on Ellie
Elementary Individual Dressage

4th
Soraya Rogers on Maya
Grassroots Combined Training

1st
Mia Gibbs on Flora
2nd
Annabel Wrigley on Teddy
3rd
Mia Sherazee on Curly
Seniors 70cm Showjumping

1st
Chloe Duncan on Bella
Seniors 80cm Team Showjumping

3rd
Emma Mulhall on Kia
 
Isabella Muir on Saturn
 
Chloe Duncan on Bella
Grassroots 40cm Team Showjumping

1st
Mia Gibbs on Flora
 
Annabel Wrigley on Teddy
 
Mia Sherazee on Curly
 
Lulu Banks on Tango